Florida Adult Center Launches Careers
Florida Adult Center Launches Careers
A Blueprint for Transition Success: Florida Adult Center Launches Careers
According to Dondie, one of the keys to student success is "to find what it is you love to do."
Dondie Roper, PALS Program Director at the Arc Gateway Pensacola, Florida can regale you with many stories just like this. How do they accomplish this? We talked to Dondie to understand her keys to transition success.
For Dondie and her team at the Arc Gateway of Pensacola Florida, limits and obstacles are not in their lexicon. They are creators of opportunities for their students through an innovative career education and life skills program called PALS, Program for Adult Learning & Support.
PALS is a two-year post-secondary program for people with intellectual and developmental disabilities. The program consists of a total of four semesters, plus summer practicums. The ARC's goal is to "provide substantial and relevant learning experiences, within an inclusive educational setting, that leads to meaningful employment."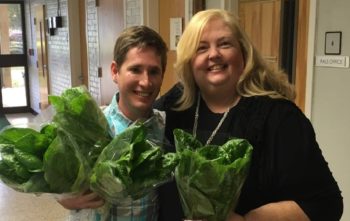 Dondie selected Project Discovery's Career Development and Life Skills Transition Curriculum as the perfect fit to help her students discover their career passion and to provide the foundation for career readiness and the ability to live independently.
The PALS program starts in the spring. Every 10 days during the spring term is "the equivalent of an intensive career highlight reel," says Dondie. We introduce all aspects of a particular career; what a career looks like, the pay scale, and actually practicing the specific job skills. For example, after using the Project Discovery Carpentry kit, students may take apart wooden pallets and transform them into decorative planters.
Many are excited to try Law Enforcement. They work with the Project Discovery Law Enforcement kit with fingerprinting, fingerprint identification and simulated crime and accident scene investigations but they also discover it's 85% paperwork! After exploring up to 7 careers, and with help from their STAR (Student Transition to Adult Roles) mentor, they develop the "Person Centered" Plan and Road Map that is just right for them.
Our long-term approach means developing the skills not only to get a job but to keep a job.
Dondie Roper
PALS Program Director
Summer Internships & Electives: Declare your Career (and Have Some Fun Too)!
Through coordination with Pensacola State University, students receive their job internships in an on-campus environment. Students are trying a job for 12 weeks practicing real job skills. Working on campus allows for job coaches to encourage and monitor their development. Supplemental field trips provide behind the scenes access to major institutions such as the National Flight Academy – offering unique exposure from flight simulators, to computers to the kitchens – so students can understand the broader job possibilities within their chosen career. "Some of it is just plain fun," says Dondie. "Florida is focused on the tourism industry and customer service. Retail is a very popular career choice, but you can apply it to different trades ranging from customer service representative for the local YMCA, or working for the Blue Wahoo Double A Baseball team."
Essential Life Skills Included for a Well-Rounded & Complete Transition to Successful Independence
Our PALS program also emphasizes essential life skills, says Dondie. "Our long-term approach means developing the skills not only to get a job but to keep a job."
"We found that Project Discovery offers curriculum for teaching these skills as well. In addition to the Job Preparation Skills series, we just purchased the rest of the Project Discovery LifeLong Learning curriculum." The Project Discovery LifeLong Learning series includes courses for the students to learn life skills to live independently, social skills to develop self-esteem and self-determination, and to improve their social communications and behavior.
"Statistically people with disabilities learn better, are better able to stay focused and retain the information when they are performing a task hands-on," says Dondie. "Videos are great but it's a balance. Hands-on training helps us better assess their skills and better help them in the long run." PALS employs rigorous and ongoing evaluation throughout a student's tenure including Pre and Post assessments in three areas:
I. Knowledge: the Mental Side
II. Skills; the Physical Side
III. Interaction With Others; the Soft Skills
PALS Graduates Achieve their Dreams.
"Project Discovery covers our basic level curriculum. We selected the program because it offers tremendous variety and every module has been through the academic rigors and provides validity and consistency. We have seen test scores increase 100% across the board," explains Dondie.
Jeff's Corner Garden: From Sitting at Home to Small Business Ownership
When Jeff Shell met Dondie, he was in his twenties and "just sitting at home." After learning about hydroponic gardening through Project Discovery's Horticulture II curriculum at the ARC program, everything changed.
In collaboration with the ARC Gateway Nursery, and with help from local grants, Jeff with his brother John are owners of a thriving Small Business, Jeff's Corner Garden at the ARC Gateway Plant Nursery. Jeff also "pays it forward" as a PALS instructor teaching Horticulture I and II, and an employer of individuals with special needs. According to Dondie, "Jeff was not severely impacted and he had opportunities. But the key is that he never found his niche. Given the chance to find what he enjoyed, he was able to develop the skills and make it happen!"
We selected the program because it offers tremendous variety and every module has been through the academic rigors and provides validity and consistency.
Dondie Roper
PALS Program Director
---
Meet Cameron: First Individual with Downs to Graduate PSC Cosmetology — Early Focus Accelerates Opportunity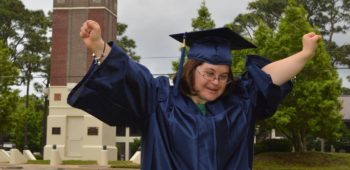 "Cameron knew forever and a day that she wanted a career in beauty, hair care and make-up." But Hair Care and Cosmetology are regulated industries, explains Dondie, "Without a license she was spending her days as a beauty salon intern folding towels, sweeping floors, and cleaning brushes." When she entered the PALS program, she was completely career focused so she could really accelerate her progress.
Cameron enjoyed using the Project Discovery Hair Care and Styling curriculum and through PALS she enrolled in Pensacola State's Cosmetology Department. Cameron proudly shares that "Cameron became the first individual with Downs Syndrome to graduate from the Pensacola State College Department of Cosmetology, and she went on to receive her State of Florida Esthetician's License. Now she works as an Esthetician at the Escape Wellness Spa."
PALS is Growing — The Earlier the Start to Career Exploration the Brighter the Possibilities
It is a pivotal growth time for the PALS program. "We are still growing our three tiered program: Transition, Training on College Campus, and Career Progression or Re-Tracking. We are working hard to fill that gap between our House Advanced curriculum and College level courses. To that end, we are looking at National Certifications specific to the Florida market such as the National Hotel & Lodging Association," says Dondie.
The possibilities are limitless, but Dondie and her team wish that many of their students could have had an earlier start with career exploration and education. "We see all they accomplish and where they go in just two years with us, and we think Wow, if someone had been able to do this at earlier ages they would come to us able to step up and get into college level courses, and/or go for their Certification and Licenses," explains Dondie.
"We are rewarded every day with inspiring student experiences. It's wonderful to see our students accomplish so much. They amaze us with their desire to learn and live successful, independent lives and become highly valued members of our workforce."