Minnesota District Has Winning Formula for School to Work Transition Program
Minnesota District Has Winning Formula for School to Work Transition Program
Specialized Career and Life Skills Curriculum
"Inclusion, workforce readiness, career development, life skills, independence," these are goals to describe the work of Nicky Loch, a Vocational Coordinator at the South Washington County School District, MN. Ms. Loch oversees the district's transition program in three high schools. She works closely with transition teachers, case managers, workforce coordinators and businesses to ensure that students, ages 14 to 21, with autism, cognitive delays, behavioral and emotional issues and non-traditional learners are work and life-ready.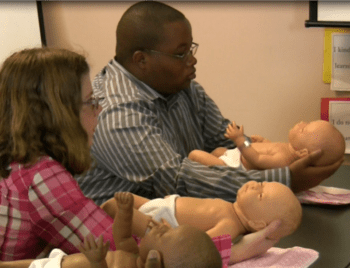 How We Collaboratively Built Our Transition Program
Three years ago, under the direction of Dr. Nancy Meyer, Supervisor of Special Education in the district, a group of transition teachers and curriculum staff gathered to discuss how to deliver an adaptable vocational and special education program dedicated to students' career and life skills readiness.
Every student should dream of what they can be --- a landscaper, carpenter, retailer, caregiver, grocery clerk, police officer or medical assistant. This curriculum enabled more students to embrace different outcomes. We don't all reach our goals, but we can reach higher to build career pathways so that more students can define their dreams based on their self-interests and unique abilities.
Nicky Loch
Vocational Coordinator
They wanted to serve a specific student population who were learning below base line requirements.
These students were not able to participate in the school's general CTE courses. The team outlined their expectations for a career pathways transition program. First, they wanted students to explore as many entry-level jobs as possible on their ability and reading level to tap into their unique talents and passions. They needed alternate assessments and data to guide their instruction and to manage compliance. They needed a coordinated set of activities, adaptable for each and every student.
They also listed this criteria of requirements:
Curriculum adaptability so teachers could deliver instruction in trimesters
Independent living skills so students could learn social and life skills to live more independently
Hands-on activities so students would be engaged to practice job skills in a lab setting
Job tools so students would have 'real-world' learning experiences
Fundamental reading and math skills relevant to job tasks
Academic data and work performance benchmarks to comply with IDEA Indicators 13 and 14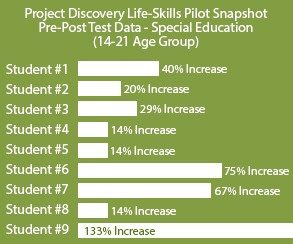 Student Test Scores Soar
The team evaluated Project Discovery, a proven career education and life skills program that included curriculum, assessment, hands-on activities, and parent and community components. This chart highlights pre-post test scores for nine students who studied the life skills modules and achieved increases from 14% to 133%.
Success Measured In Pre-Post Data & Work Performance Benchmarks
Pre-Post data and work performance benchmarks allow teachers to assess students' knowledge gains, as well as evaluate their skill performance of tasks they can perform. This information demonstrates progress and mastery to parents, local businesses and community organizations.
Today, thanks to the district's vision and the Project Discovery specialized transition program, more high school students with exceptional needs now have jobs they are excited about and ready for. They learned about themselves and what skills they are capable of doing, while gaining self-confidence. They set higher expectations. Some students crossed into the high school's general inclusion career and technical program.
This is more progress than we hoped for. Project Discovery is now our cornerstone curriculum to help students explore their abilities and interests on their reading level. When I walk into a classroom and see students building, testing soil, checking blood pressure, practicing child care or creating graphic posters, I know they are learning new skills. They enjoy the education process and the flexibility of the curriculum enables teachers to more personalize IEPs. I get excited to plan students' transition programs and it's wonderful to observe them so eager and able to perform job tasks.
Nicky Loch
Vocational Coordinator