Learn By Doing. Every Learner.
Every Level.
Project: Discovery
| | |
| --- | --- |
| "Every student should dream of what they can be… This curriculum enables more students to embrace different outcomes." – N. Loch | |

Explore. Experience. Learn.
Learners will explore, experience, learn and develop real life job skills with actual tasks and job tools while reinforcing core academic skills. Students who learn by doing will excel and enhance their opportunities in the workforce and will be Job Ready.
Project Discovery is a great teaching resource! The hands-on activities are great… It's the only curriculum I've used that has a wide enough variety for all levels… There's almost always something that works for my highest and lowest-functioning students. The variety of job fields covered is good - students are learning things I would not have thought to teach.
K. Manley
Special Education Teacher, Jefferson County, AL
As one instructor noted, Project Discovery "is almost like on-the-job training". Students are prepared to enter the world of work because they perform the actual work tasks of a specific occupation. They are introduced to workers in the field and are provided the tools to leave high school with at least entry-level work skills.
Dr. Izzo
The Ohio State University, OH
Lori Dyer explains why Believers Academy chose Education Associates to improve results for their students.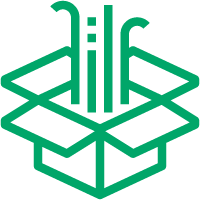 What's In A Kit?
Classroom-ready instructions
Engaging activities to motivate your students
Knowledge & performance-based assessments
Rewarding students
Easy customization
Specifically designed special education versions
Real tools for real job skills
Involving parents
Real voice audio
Mobile storage made simple
Career Awareness

Introduction to career pathways

Career Exploration

Over 100 career choices to help students find their future

Adapted

Opening career doors for students with autism and other significant challenges

Job Skills Training

Building marketable skills for high demand jobs
Different levels for different learners.
Hands-on modules designed to introduce elementary students to career clusters. Learners will use real tools to gain exposure to career fields such as medical careers, construction and public services.

Finding Career Passions and Learn by Doing. Learners will explore, practice and learn real job skills with real job tools to be JOB READY. Meeting all students where they are. Differentiated instruction for beginning, intermediate and advanced learners.

A dynamic hands-on career education program specifically designed to provide individuals with autism and other developmental disabilities the opportunity to explore careers, learn about their passions and interests, and gain work and life skills.

Hands-on job skills training series to prepare learners grades 10-12 and ages 18-21+ for entry-level work by developing marketable job skills. Competency-based, day-by-day detailed lessons skillfully prepare students for the workplace. Students learn job-related skills, life skills, academic skills, workplace safety. They exit the program with a certificate of skills completion for a successful transition to employment.
Offered at two progressive levels for continuing studies: Basic and Enhanced
90-day programs for each Basic and Enhanced title
Career Exploration: Beginning, Intermediate & Advanced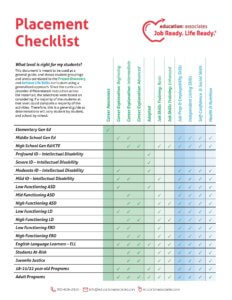 What Level is Right for my Learners?
We've created a simple checklist for you to explore the best options and resources for your individual students' needs.