Take a Look Inside Our
Results-Driven Programs
Interactive Preview Packet
Our Preview Packet is an INTERACTIVE Electronic Preview of the solutions you need to get ALL your learners Job Ready and Life Ready!  Complete the form below to download the PDF, and then use the left-hand navigation to browse the packet.  Click on buttons, photos and other elements to gain an in-depth perspective!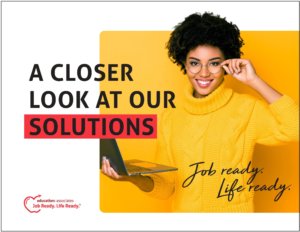 Our Interactive, Electronic Preview Packet includes:
– Sample Curriculum for all of our Series
– Hear It. See It. Do It! sample of our multi-sensory approach
– Our Wish List of every title we offer
– What's in a Kit? page detailing every element of our robust Project Discovery kits
– Solution Packages for specific populations
– Credentials, Success Stories and Stats
– Digital Badge Credentials
– Next Steps to schedule a personal Zoom or request a custom Quote!